Mobile Map
This detailed trail map has GPS mapped trails, backcountry campsites, and many other features for exploring the Smokies.
Map has coupon code for downloading the
GPS Data Pack
and extends the use of your unit in the field.
2) Visit Avenza Map Store
Find our maps by searching for "outrageGIS" through the Avenza PDF Maps App and select your map.
After installation, you can use our maps without cell service or Wi-Fi. You can log and export your GPS tracks, waypoints, and photos.

2009 Trail Atlas Contents 
The atlas helps hikers and equestrians enjoy the varied geography, ecology, and history of this wonderful park. The atlas packs in a 4.5" x 6" x 3/8" kit that is durable and waterproof. 
1:96,500 scale GPS trail map with elevations, forest canopy type, and lattitude and longitude grid.

three full-color sheets at 18.5" x 13"

A 3D map offers a Bird's Eye View of the park and is a quick, intiutive way to visualize the topography of the park.

one full-color sheet at 18.5" x 13"

1:192,000 scale map shows Camping in the park and is great for the early stages of planning your backpack trip.

one two-color sheet at 18.5" x 13"

A historic topographic map the shows Pioneer Places in the park and the area on the eve of the park's creation.

one full-color sheet at 18.5" x 13"

A 32-page trail gazetteer booklet that gives exact location of trailheads, trail intersections, backcountry campsites, and scenic areas. Gives trail users cumulative elevation gains and losses.

32-page booklet at 6" x 4.5"

Free GPS Data Pack download with GPX track and waypoint files for trails and destinations in the park. Includes expanded gazetteer and special topographic mapbook.

36-megabyte download only
View this Map
The most complete and handsome trail map you'll carry in the backcountry.
This innovative atlas contains full-color GPS trail maps, evergreen and deciduous canopy cover, backcountry scenic sites, historic and 3D maps, a gazetteer booklet, and a GPS data pack web download.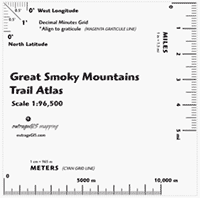 Download and print map scale and measurement tool. Note, this scale is included in the atlas. Print it at home and use in the woods to more precisely locate yourself with a GPS unit set to DD MM.MMM, on a UTM grid, or just measure linear distance.

View an interactive Bird's Eye View map (requires Flash)