Description
Trail atlas for the last great wild land in the southern Appalachians. This attractive collection of maps is the most handsome and useful atlas you'll own. Hikers and equestrians will find new epic discoveries in the varied geography, ecology, and history of this wonderful park. The Great Smoky Mountains National Park Trail Atlas.
Current weather and animations for the Great Smokies
Features:
GPS mapped trails and backcountry campsites
Full-color atlas with 32-page gazetteer booklet
Topographic elevations and forest cover type
Mileage is shown for trails & between camps
3D, Historic, and Overnighting maps
Carries in 4-mil zipper poly bag for durable use
February 2015: We're creating an all-digital map kit and we'll offer it soon. You can purchase a GeoPDF here to use on your mobile PDFMaps app.
What's included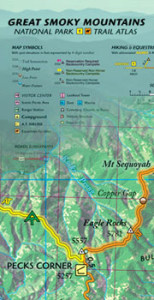 1:96,500 scale GPS trail map. A gorgeous full-color map of the entire park with GPS mapped trails, GEO and UTM grids, forest cover type, and topographic elevations. Designed for the backcountry explorer and navigation enthusiast. 39″ x 18″ divided into 3 tiles for easy use.
3D Map. Offers a Bird's Eye View of the park and is a quick, intuitive way to visualize the topography of the park. 18.5″ x 13″ full-color.
1:192,000-scale Overnighting Map. Shows all overnight options in the park and is a great map for the early stages of planning your backpack trip. 18.5″ x 13″ two-color.
Pioneer Places. A historic topographic map that shows pioneer places in the park and the area on the eve of the park's creation. 18.5″ x 13″ full-color.
Trail Atlas Gazetteer. A packable booklet that gives exact location of trailheads, trail intersections, backcountry campsites, and scenic areas. Gives trail users cumulative elevation gains and losses. 32-page 6″ x 4.5″ duo-tone.
Our maps are available laminated for superior durability. We use the highest quality laminate and a heat press to guarantee that folded laminated maps fold flat.
Visit companion website with zoomable 3D map, current weather information, and webcams.