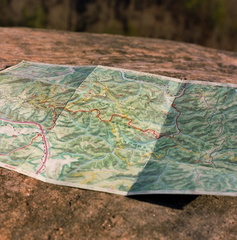 Welcome to the trail guide section of our site. We often get phone calls as customers are ordering maps asking, "What's a good hike here?" We thought we could share some of our favorite hikes and scenic destinations, as well as visit more obscure and less popular areas, covered on our maps.
All of the trail descriptions are detailed on our published maps that we sell online. We'll provide info like photo tours and GPS points for our trails to help you coordinate your trip and maximize your fun. While you can use these descriptions with other maps, or even no maps at all, the descriptions are keyed to our maps.
We have developed a map that assesses scenic conditions along trails in the Big South Fork and Daniel Boone National Forest and the state parks that border these public areas. View this map on SheltoweeTrace.com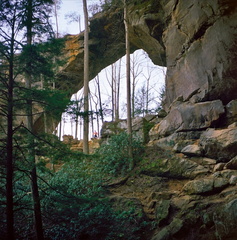 A general key for our difficulty, scenery, and elevation measures.
Difficulty
+ Easy. Well-maintained trail with stairs, boardwalks, and bridges; no creek crossings and little or no elevation gain.
++ Moderate. Fast trail over moderately variable surface; minor creek crossings, bridges across deeper creeks; some steep elevation changes.
+++ Difficult. Trail over highly variable surface, slow with switchbacks, creek crossings, or fords, and steep elevation changes.
++++ Tough-n-Rough. Stretches of poorly signed, steep, and aggravating trail that will occasionally require crossing swift moving streams. Ladders, scrambles, and/or fords that could become impassable in bad weather or high water.
Scenic Views

+ I'm outdoors at least. No proper scenic views or areas; area is overused, noisy, and/or derelict. Road walks and stretched of trail on private land. Recent logging or mineral extraction and/or fouled earth.
++ Pleasant. Mostly in forest with periodic scenic views into the depth of the woods or across a nice creek.
+++ Gorgeous. Great trail in big forest with big views. Developed scenic areas or overlooks. Arches or other geology.
++++ Outstanding. Major overlooks to fantastic geologic and water features. If you see people, they will surely have cameras.
Elevation. Since the elevation relief is given for the trail, the number of 'ascents' or 'uphills' are denoted by the ^ character.

^ 1 Uphill, etc….
^^
^^^
^^^^