Description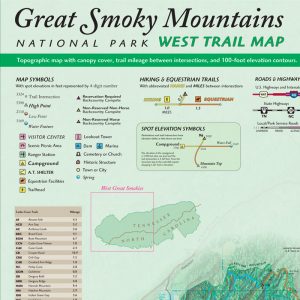 The GPS data pack assures you to hike confidently and effectively. Our data pack contains 2 GeoPDFs, 16 GPX files, a companion gazetteer, and a historic topographic map with a 1-minute GPS grid. The product is offered only as a 250 Megabyte download, which includes all documentation, maps, and data. Buyers will receive free access here to unlimited updates and releases.
GeoPDFÂ 
Two 1:50,000 scale maps cover the East and West Smokies with incredible topographic detail. You can use the free app PDF Maps to use these maps in the field without a cellular data connection. You can also use the GeoPDFs outside of the app, which is useful for planning.
Maps show forest canopy cover type, GPS mapped trails, 100-ft elevation contours, backcountry campsite location and rate of use, spot elevations at trail intersections, waterfalls, and 1-km UTM grid. Trail mileages are given between trail intersections and backcountry campsites. Spot elevations are shown for many locations, such as trail intersections, campsites, and waterfalls.
GPS Data Pack includes
Detailed trail data and backcountry camp locations as GPX. Also includes track data for older GPS units with limited storage capacity.
16 GPX files for trails (as tracks) and waypoints for all trail intersections, backcountry camps, summits, gaps, recreational & historic destinations, populated places, stream heads, cemeteries & churches, schools, and valleys, coves, & springs. An innovative labeling system puts a 4-digit elevation reading in the waypoint name for trail intersections, camps, gaps, waterfalls, and summits.
95-page Gazetteer & GPS Manual as PDF. The gazetteer lists, details, and gives locations for all waypoints. The GPS manual has links to free utilities to upload and manage your data and information about overnighting and weather in the park.
15-page USGS Topographic Map as PDF. A 1:125k map created by the U.S. Geological Survey is tiled onto a letter-sized map book for easy printing. The map is overlaid with a 1-minute GPS grid to use with the gazetteer.
View current weather, forecasts, and webcams from our Great Smokies Weather Station.