Visit our special park web pages. These pages are supplemental information for our published titles. They often contain links to free maps and information.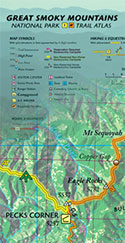 Great Smoky Mountains
1:96,500-scale map with GPS mapped trails, backcountry camps, scenic destination gazetteer, and GPS datapack. The most complete and handsome trail map you'll carry in the backcountry.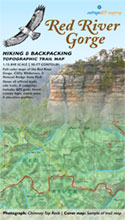 Red River Gorge
1:15,800-scale map with GPS mapped trails with backcountry campsites and side trails. Grand sandstone arches tower over cool, secluded valleys of rhododendron and hemlock.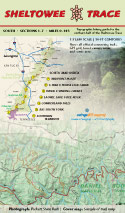 Sheltowee Trace
1:32,000-scale map of Sheltowee Trace from the northern terminus to McKee, Kentucky covering 150 miles of trail. Sheltowee, or Big Turtle, was Daniel Boone's name in his 1778 Shawnee family.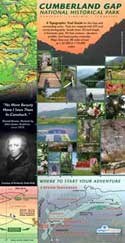 Cumberland Gap
1:32,000-scale map of the entire National Park and Lincoln Memorial trails, with backcountry camps and Hensley Settlement. Includes First Frontier audio driving booklet. An innovative trail map and elevation profile that would even impress Daniel Boone.
Big South Fork Trail Guide
1:32,000-scale map of John Muir Trail and southern sections of Sheltowee Trace
Cave Run Lake Trail Guide
1:18,000-scale map of all Cave Run Lake hiking, equestrian, and mountain biking trails
Pine Mountain Adventure Guide
A mixed-format product with both an internet download and two printed guidebook components
Jefferson County Forest
1:18,000-scale map of Louisville's urban forest and trail network
Red River Gorge Sports Map
1:32,000-scale map of climbing and other outdoor sports in the old Stanton Ranger District