Description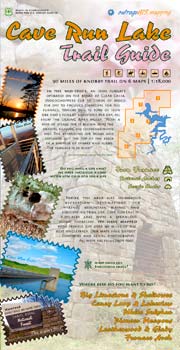 Classic Kentucky singletrack: knobby, twisty, and steep. If you are looking for a challenging and scenic trail in the backcountry, this is your map!
Current news, weather, and maps for Cave Run Lake
Features:
GPS mapped trails with true-length
1:18,000 scale map set
50-foot elevation contours over aerial photography
Full-color with GPS coordinate grid
For long-distance hiking and mountain biking
Trail elevation profiles and handsome overview map
Maps Include:
1:18,000-scale full-color maps with 50-ft contours, aerial photography, and GPS grid.
Overview Map
Trail difficulty map
Trail elevation profiles
We hiked & rode over 90 miles of singletrack trail through this rugged and knobby forest to create this guide. All trail were captured with high-precision Trimble GPS. The 8-map, 1:18,000 scale, the full-color set was released on Memorial Day 2003. Official trails have elevation profiles.