Description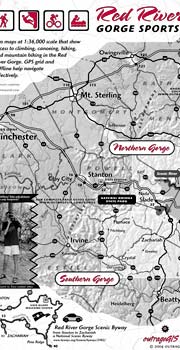 Climbing, Hiking, Paddling, and Mountain bike exploration in the Red An 18 x 24 inch map that locates popular and obscure climbing areas. The map has a GPS coordinate grid for navigating trails and jeep roads in the Southern and Northern Red. Also shown are paddling put-ins and take-outs, mountain biking areas, and the Pendergrass-Murray Recreational Preserve. 1:36,000 scale.
Features:
Locations of adventure sport destinations
18″x24″ map 1:36,000 scale map Northern and Southern Red River Gorge
50 mapped climbing areas including Southern Gorge
Geo GPS coordinate grid
Sheltowee Trace, USFS trails and jeep roads
Hillshade with cliffline delineated
Parking pull-outs, old forest service roads, and private campgrounds mapped
Map Includes:
1:36,000 18″x24″ map with GPS grid, cliffline, and parking pull-outs.