Description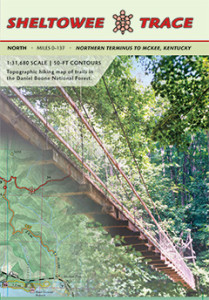 Topographic trail map for the northern portion of the Sheltowee Trace.
This trail map shows 140 miles of ST (and all official trails in connected Forest Service and State Park lands) from the Northern Terminus to McKee, Kentucky.
Updated September 2020
Current news, weather, and online maps for the Sheltowee Trace.
Mobile GPS app to help locate you on the map and find the nearest Sheltowee Trace mile marker.
(This app works in your phone's browser, is completely free, open source, and will not collect your information. Read more about why we made this app).
Features:
Two, 19″ x 27″ double-sided, laminated sheets for extra durability and folded in a heat press to ensure the maps pack flat at 4.5″ x 6.5″
Includes new Morehead reroute and planned trails for Cave Run
Beautiful full-color maps with forest canopy cover
1:31,680 scale, 1 inch to a half-mile
Shows all official trails, with mileages between intersections, from the Northern Terminus to McKee, Kentucky
50-ft elevation contours
Mile markers for the Sheltowee Trace
Carries in 4-mil zipper poly bag for durable use
---
Our maps are available laminated for superior durability. We use the highest quality laminate and a heat press to guarantee that folded laminated maps fold flat. Rest assured that you will own the best backcountry map available for North Sheltowee Trace.
Trail photos from the Northern Daniel Boone
Visit companion website at shewltoweetrace.com to join in a discussion about planning your next trip on the Sheltowee Trace