Description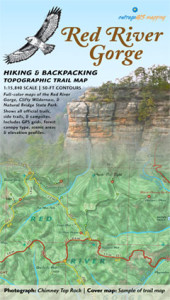 9th Edition released for 2022
Our maps are available laminated for superior durability. We use the highest quality laminate and a heat press to guarantee that folded laminated maps fold flat.
Your Destinations
Red River Gorge Geological Area – Natural Bridge State Resort Park – Clifty Wilderness – Daniel Boone National Forest – Tunnel Ridge – Chimney Top – Sky Bridge – Rock Bridge – Swift Camp Creek – The Rough Trail – The Sheltowee Trace – and all official trails in the Red
Planning for your next adventure
Before you take your map into the woods, we have a few resources to help you have the best experience.
Features
GPS-mapped trails and backcountry sites
1:15,840 scale map set — significantly more detailed than any other map!
A gorgeous full-color map that shows forest canopy cover
50-foot elevation contours & GPS coordinate grids
Bird's Eye View map and trail elevation profiles
Sunrise and sunset locator map to find the best campsites
Map showing local eateries and tap-rooms
Lamination available
Visit our sponsors
Trail photos from the Red River Gorge

View more photos