Description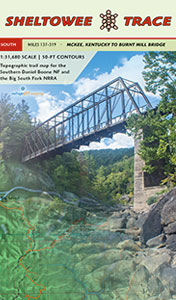 Topographic trail map for miles 141-343 of the Sheltowee Trace. The Sheltowee Trace is a 343-mile long backcountry trail (2020 alignment) that spans the length of the Daniel Boone National Forest and connects the Big South Fork, Cumberland Falls, and Natural Bridge. It is Kentucky's longest National Recreation Trail.
Updated September 2020
This map set shows the Sheltowee Trace from McKee, Kentucky to Burnt Mill Bridge in the Big South Fork. Official trails and recreation areas are shown for the southern half of the Daniel Boone NF and the Big South Fork NRRA.
Current news, weather, and online maps for the Sheltowee Trace, Big South Fork NRRA, and Daniel Boone NF.
Mobile GPS app to help locate you on the map and find the nearest Sheltowee Trace mile marker.
(This app works in your phone's browser, is completely free, open source, and will not collect your information. Read more about why we made this app).
Features:
Six-panel 27″ x 19″ full-color topographic maps with forest canopy cover
1:31,680 scale, 1 inch to a half-mile
Map of official trails Big South Fork National River and Recreation Area and of the Southern Daniel Boone National Forest.
Includes 50-ft elevation contours, park and forest boundaries, scenic areas, backcountry camps, and front country camp and recreation facilities.
Shows the Sheltowee Trace from McKee, Kentucky (mile 141) to Rugby, TN (mile 343).
Mile markers for the Sheltowee Trace. Mileage begins at the Northern Terminus, which is covered in our Sheltowee Trace North 2020 map.
Official connecting trails are shown with mileage
Lamination is available and map pack carries in a 4-mil zipper poly bag for durable use
Backcountry trails include the John Muir Trail, the Kentucky Trail, Twin Arches Loop, Litton & Blevins Farm Loops, Pilot Wines & Big Island Equestrian Loops, Hidden Passage Loop, Rock Creek Loop, Leatherwood Ford Loop, Grand Gap Loop, Blue Heron Loop and trails around the Charit Creek Lodge area, Yahoo Falls loop, Rockcastle and Scuttlehole Loop, Bee Rock and Rockcastle Narrows, and many more.
Scenic areas include Honey Creek Overlook, Angel Falls Overlook, Sunset Overlook, O&W Bridge, Bronco Overlook, John Muir Overlook, Fall Branch, No Business Creek, Litton and Blevins Farms, Van Hook Falls, Cumberland Falls, Sinking Creek Suspension Bridge, Hawk Creek Suspension Bridge, Blue Heron, and Laurel River Lake Dam.
Trail photos from the Big South Fork
View more photos…