Description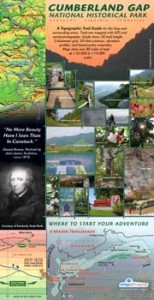 The most detailed map for Cumberland Gap with innovative trail elevation profiles and detailed insets of Hensley Settlement and the historic gap.
Features:
GPS mapped trails and backcountry campsites
1:32,000 scale map of entire park with 1:12,000 scale insets
50-foot elevation contours and aerial photography
Full-color map with GPS coordinate grid
Lincoln Memorial University mountain biking trails
Carries in 2-mil zipper poly bag for durable use
Includes entire Pine Mountain Adventure Guide for free!
Maps Include:
A 1:32,000-scale full-color map of this National Historical Park that shows 50-foot contours and GPS grid.
1:12,000 scale insets with aerial photography and topography.
Trail elevation profiles that show proper network topology.
Over 80 miles of trail are mapped. Oriented along Cumberland Mountain, this park lures hikers with 2,000 feet of vertical relief and numerous mountian top, backcountry campsites.
Lamination
Our maps are available laminated for superior durability. We use the highest quality laminate and a heat press to guarantee that folded laminated maps fold flat. Rest assured that you will own the best backcountry map available for the Cumberland Gap.
Current news, weather, and maps for Cumberland Gap NHP