Description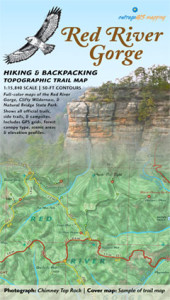 9th Edition released for 2022
Our maps are available laminated for superior durability. We use the highest quality laminate and a heat press to guarantee that folded laminated maps fold flat.
Your Destinations
Red River Gorge Geological Area – Natural Bridge State Resort Park – Clifty Wilderness – Daniel Boone National Forest – Tunnel Ridge – Chimney Top – Sky Bridge – Rock Bridge – Swift Camp Creek – The Rough Trail – The Sheltowee Trace – and all official trails in the Red
Current weather and maps for the Red River Gorge
Mobile GPS app to help locate you on the map and find the nearest Sheltowee Trace mile marker.
(This app works in your phone's browser, is completely free, open source, and will not collect your information. Read more about why we made this app).
Features
GPS mapped trails and backcountry campsites
1:15,840 scale map set — significantly more detailed than any other map!
A gorgeous full-color map that shows forest canopy cover
50-foot elevation contours & GPS coordinate grids
Bird's Eye View map and trail elevation profiles
Sunrise and sunset locator map to find the best campsites
Map showing local eateries and tap-rooms
Lamination available
Visit our sponsors
Trail photos from the Red River Gorge

View more photos