Cumberland Gap Map
Distance: 23 Miles round-trip from Wilderness Road Campground
Difficulty: +++
Scenic Views: ++++
Elevation Relief: 2,100ft ^^^
Ownership: Cumberland Gap, NPS
Google to trailheads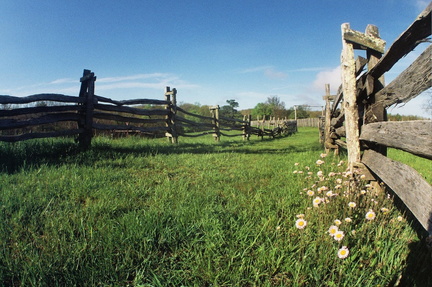 Trails in Hensley settlement
Sherman Hensley hiked up this mountain in 1903 with his pregnant wife and all of the tools and food-on-foot he could drive. They saw the large meadow that would bear the Hensley name and carved out a pioneer homestead. The Gibson family later joined the settlement and together they lived on the mountain, even after the park purchases their land until Sherman left in 1970.
Today you can walk along meadow roads lined with spilt-rail fences and old apple trees. The park has preserved the old homes built from virgin chestnut timber and stone birthed from the mountain. You can drive to the top via the park road up Shillalah Creek in the 4-wheel drive tour van (tickets are purchased at the visitor center) but why drive, when you walk up the mountain like old Sherman, did over 100 years ago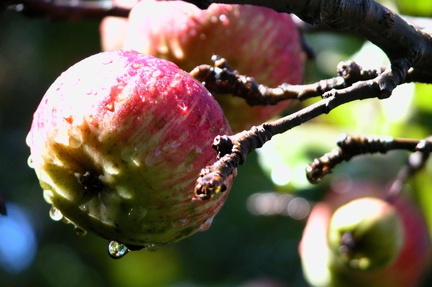 Hensley heirloom apples
Plans for 2-day, 23-mile backpacking trip with a camp at Martin's Fork, Hensley, or Chadwell camps.
Start at Wilderness Road Campground and hike the Gibson Gap Trail (some refer to it as the Boy Scout Trail).
After about 5 miles you will summit Cumberland Mountain at Gibson Gap Camp. Take a right and proceed east along the Ridge Trail to Hensley Settlement. Along the way you'll climb taxing ridge-line knobs. Refer to the elevation profile in the map set to gauge and plan your progress.
Travel east 5.3 miles to Indian Rock Trail. Here you can take a left and follow the trail into Hensley Settlement. However, after your 11 miles up the mountain, you might consider going straight about 1.5 miles to your first group of camps. Hensley is an equestrian camp and Chadwell is hiker camp, and the highest camp in the park. If the weather looks threatening, consider hiking about a mile and nearly 500 vertical feet down to Martin's Fork camp. This sheltered camp will cradle you nicely during an overnight storm.
A potable water spigot is located by the Park Hensley House on the perimeter of the Flats. Nice!
Explore Hensley Settlement and return to Wilderness Road Campground.
---
Photos:
Hensley in the fall
Hensley in the springtime
---
Listen to descriptive audio about:
*NOTE: audio is part of free driving tour available at firstfrontier.org
---
Visit the Cumberland Gap trail planner for your next backcountry trip.