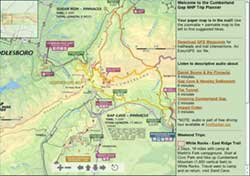 Great Backcountry Trips at Cumberland Gap
This webpage with zoomable map shows awesome backcountry trips in color-coded loops, all of which use some segment of the Ridge Trail. Trips are organized as weekend excursions with suggested camping and water access. The map is a simplified version of the full topographic trail guide found here. The full map also contains the useful elevation profiles for trails.
The page also has links to audio about recreation in Cumberland Gap. The audio is part of the free audio driving tour we produced entitled, The First Frontier Audio Driving Tour. The entire tour can be download for free at firstfrontier.org.

Cumberland Gap Trail Guide
Ownership: Cumberland Gap National Historical Park, NPS
Google to trailheads
---
Visit the Cumberland Gap trail planner for your next backcountry trip.