The update to our Cumberland Gap National Historical Park is almost complete. Much like the old map, our 2016 version is a 1 inch to 1/2 mile scale map with 50-foot contours, trail elevation profiles, and  GPS-mapped trails shown in vivid full-color printing. This year we added a layer that shows density of canopy coverage and GPS-mapped Caldwell Gap Trail. The size of the park has increased since our last update, so we've included most of the additional land.
If you want to check out the map, please visit our booth this weekend (location and coordinates are shown on the below map). Find us on the Woodland Christian Church side of the fair at the shady bottom of the hill.
.
Cumberland Gap map details
The map is two double-sided 19.5″ x 13.25″ full-color nicely printed pages. The map inset side has four maps of popular recreation destinations in the area with 2014 aerial photography as a base map. Elevation profiles now have all trails in the park shown. We've also updated our Bird's Eye View map, with trails and overnight camps. We're fleshing out the companion website with trail information and suggested trips in the Gap.
Our interactive maps show trails, trailheads, scenic views, and destinations with a companion guide that shares good backcountry hikes and notes about trail conditions. Our weather station for the park will help you plan your trip and understand mountain climate. Admire the ancient forces of nature as you hike along pioneer trails such as Boone's Trace and the Wilderness Road.
A client needed a base map for an upcoming hiking guide to areas east of Salt Lake City. We came up with a simple, clean photoshop file using NAIP aerial imagery and 1/3 arc-second seamless DEM. The NAIP was used to create an NDVI and estimated canopy cover and the DEM was used as a shaded relief and to generate 40 ft contours. The NDVI and shaded relief were used for emphasis and helped make the aerial 'pop' a little more. Lakes and perennial streams were added, but as you can see the don't register perfectly with the aerial image.
---
You can keep up-to-date with our various projects in our blog section of the site.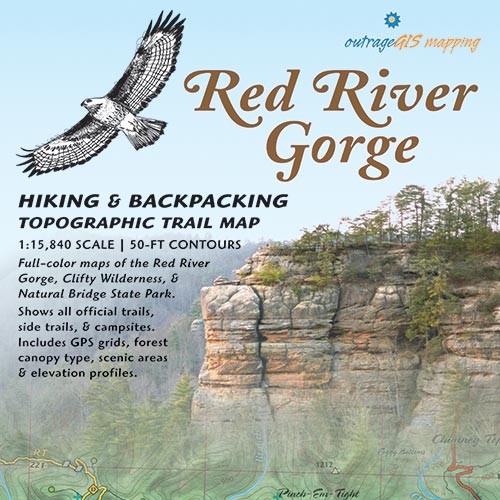 If you're planning on hiking in the Daniel Boone NF, Great Smoky Mountains NP, Cumberland Gap NHP, or in Kentucky state parks, we might have a map and digital geodata for you. Check out our shop for maps and data you can purchase online.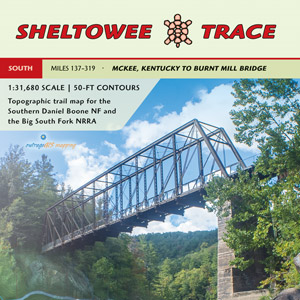 Looking for a weekend in the woods, alone and untroubled by maintaining your social media landscape? Consider wandering into a landscape of sandstone cliffs, river fords, and bear in the Big South Fork.
[flickr_set id="72157657793905298″ max_num_photos="15″ no_pages="true"]